Take Away Disposable Plastic Oven Food Container Mould
Product Detail
Product Tags
For plastic food can and container moulds, we often used 718H, 1.2738, 1.2344 steel, also it need manually polished step to step to get the good appearance and good ejection without minor scratches on the part surface.
● Part Name: Plastic Food can or Container Mould
● Product Size: All kinds of size and shape
● Cavity/ Core: Vacuum quenching treatment
● Mould Cycle Time: 18 Seconds
● Mould life: 500K
We are leading manufacturers for food Container Moulds. Supplying plastic food can molds with various sizes, shapes and designs.
Deying Molding is dedicated food lunch box container moulds manufacturing. We are good at making thin wall boxes and container mould, thinwall cup mold, microwave container molds.
For food container molding, DEYING design multi-cavity container BOX in separate cavity molding inserts locking system, this can saving the tooling period time, also can avoid the tooling mistake risk for high precision mould process.
It have to use high speed milling machine, fast flow of the raw material inside cavity by valve gate system, effective cooling system for the mould temperature control and high speed moving of each step. We also offer IML molding system for food container molds.
From 100ml upto 1500ml box mould, round box mould, thinwall IML molding box get high production capacity for profit.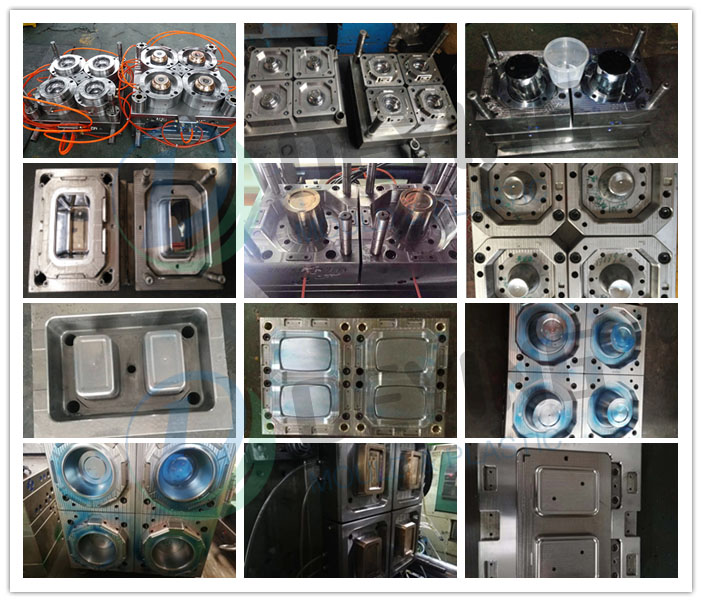 DEYING MOLD supplies a complete set of multi-cavity transparent container molds with different sizes. The capacity includes 100ml, 200ml. 250ml. 500ml, 1000ml, large like 18 l, 25 l, 60 l, 110 l and so on.
There are two types of transparent containers:
1. Single-use food packaging, usually single-use products are ultra-thin containers with a wall thickness of 0.4-0.6 mm. Xinuo mold can produce 4 cavity 1 l ultra-thin container mold with a wall thickness of 0.4 mm. It can run 10s/shots with 400 tons injection molding machine.
2. Not disposable. Another type of plastic container has a wall thickness of about 0.8-1 mm. At present, we have a set of container molds that can produce seven different sizes and shapes, which can be used with some container lids. The entire design can be stacked on each other, which greatly occupies the area of ​​the container and also greatly reduces the logistics cost.
3. All transparent container molds need to be polished well. In order to make the container look shiny, we usually use DIN1.2738, DIN1.2344, S136 as the mold cavity steel. If the container wall thickness is thick, 718 h steel can be used to reduce mold costs. We provide molds according to our customers' requirements.
Deying Mold specializes in providing technical support for total molding line solutions. For more information, please feel free to contact us.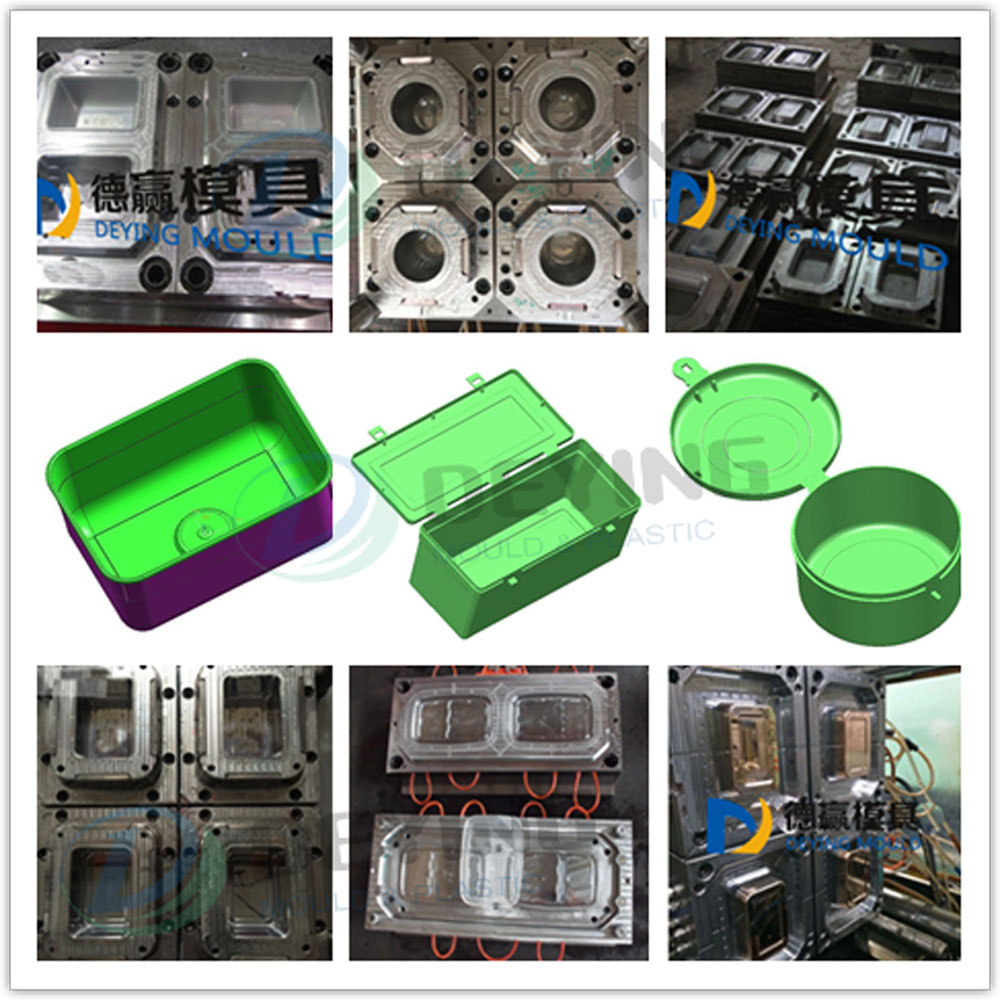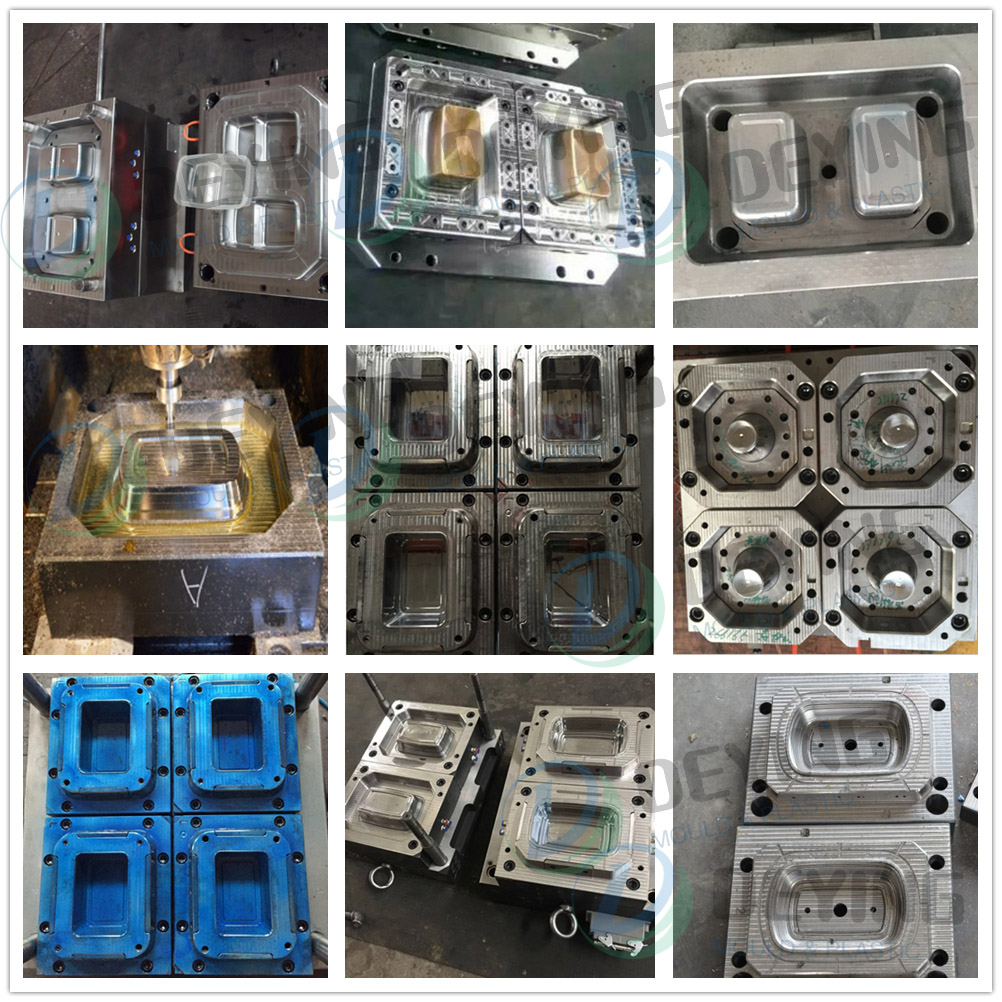 ---
---